The following report from Dave Lenton has been 'edited' to reduce the possibility of litigation! However, Ken firmly still disassociates himself with any of the comment!
S61 44th Reunion - Isle of Wight – 17 September 2011
We few, we happy few, we band of brothers;
For he to-day that sups his ale with me
Shall be my brother;
And shoot through twats in England now a-bed
Shall think themselves accursed they were not here.
(Henry V, Act III - ish)
He always had a decent turn of phrase did old Will, and how very apt these words are! For me and Eddy Calvert, the day had started well, at a party in the Crispin (half a tot to anyone who spots the link to the verse above!) pub, in Newport, at lunchtime. At COP we thought we'd pop into the Wheatsheaf, to make sure that all the preparations for the reunion were in hand. The search for a scapegoat and punishment of the innocent had already begun, in true naval fashion, when Ray and Judy Reims tapped me on the shoulder; all the painstaking planning had been worthwhile, and there would be no Black Mass for me and Eddy after all!
We all shared a drink, by which time it was 1800, and, after agreeing to meet up again at 1930, we went our separate ways to get ready for the evenings festivities. I was staying with Eddy, and you can imagine our surprise when we received a phone call from the Landlady of the Wheatsheaf to tell us that a group of people had turned up asking about a reunion! It was Allan and Chris Baker, and John and Di Waddington! The cast was complete! Me and Eddy showered, shaved, put on our best clothes, and had something to eat (yeah, right!), and hot footed it back to the Wheatsheaf.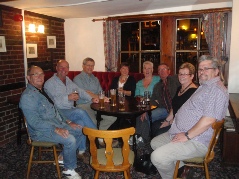 Left to Right:
Mick Connell, Eddy, Allan, Chris, Di, John, Judy and Ray.
The chap on the left is Rear Admiral Mick Connell RN rtd!!! He was the Captain of HMS Newcastle when Eddy was the chippy in the early 80's. Upon retirement, he became a very successful businessman on the IOW, and eventually became the owner of the Bugle Hotel, where Eddy and his mates used to drink before it was shut down. He always thought the world of Eddy; so much so that he took him on as head of his bar staff. Funny enough, that was about the time that he began his drift into alcoholism and obscurity; very sad. He lost everything, poor bloke, except his good pal Eddy, and was delighted when we asked him to be our guest of honour.
Early into proceedings, Eddy announced plans to move on to another venue during the evening; where shatteringly loud live music would render speech useless, and test our body language and lip reading skills to the limit, in a dark, oppressively hot and thoroughly hostile environement. Very noble of Ed to pander to the needs of the clankies, but me and the girls weren't too sure at all. We needn't have worried though, as Di had set such a cracking pace in the lager shifting stakes that it soon became obvious that Ed had been well and truly knobbled, and wasn't fit to lead us anywhere.
All was well for a while, until one of the girls felt peckish, and demanded to know what had happened to the promised finger buffet. Ed started mumbling something about lack of numbers and cost per head, and was doing OK till someone heard the word 'cancelled', and then it all kicked off! They soon had Eddy pinned against the wall, and, while he was making a stammering apology, I managed to slink away to the bar and procured enough crisps, nuts and pork scratchings to calm the ladies down!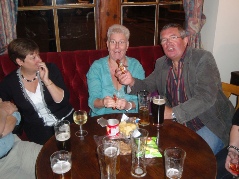 The 'finger buffet' saves the day.
John holds his nuts under Di's chin!
See how delighted Di is!
The banter throughout the night was brilliant. It was fascinating to learn about each other's lives and work. Ray, for instance, travels in cat food these days, and explained that one flash of his Purina ID card will open any door, and enable him to jump any queue – even at the IOW ferryport! I don't know whether he takes his work home, but he and Judy are certainly on something. We all agreed that Judy was the most youthful looking of all present, and yet she spent half the night gloating over the fact that she's the only one that actually qualifies for a bus pass! I was so impressed that, as soon as I got home, I signed Carolyn up for the Purina one month challenge! (Yeah, go on, Google it!)
Allan meanwhile, revealed that he's now an antique furniture restorer, which was a bit embarrassing for me and Eddy, as we never really got beyond plywood boxes and ship's crests! He confessed that he found it hard to adjust to life after life as an MEO. It wasn't so much the sniggers that greeted him when he turned up in shiny black steaming boots and gleaming white overalls that bothered him. What really hurt was that his right angled torch just wasn't effective at fixing bits of wood, no matter how many times he shone it at them. Shouting "Chief!" didn't seem to work any more either! I was amazed to hear that Allan and Chris have been married since 1970, though I didn't know whether I felt sad or impressed with Allan's foresight, when he told me she was now his full time carer. (Stop Press: Allan has since clarified that Chris is 'a' full time carer and not 'his'. Sorry, Al, but please keep the flowers anyway!)
Some of the revelations were shocking! The story of how John and Di got together would grace any page turner! Apparently, at the age of 15, Di used to hang around in bars, dressed in a Girl Guides uniform, looking for older men to buy her drinks, whilst John was some sort of predatory Sea Scout, who used to trawl the bars, looking for young girls, in full rig. It was simply a matter of time! It seems that when they met, it was a half of bitter that did the trick. Di was very cheap in those days – she reckons it would take a pint of lager at the very least these days! I have to say, Di was brilliant; the real life and soul of the party. Us poor blokes were simply overwhelmed. It was like being with Ken Morrison or Phil Nield at a convention for the hard of hearing! At the end of the night I was hoarse through the effort of trying to make myself heard. Either that or it was lack of lubrication, because every time I turned my back, Di was scuppering my ale – and it wasn't just sippers, or even gulpers; it was hands to bathe every time!
Seriously though, I could hardly speak for two days after the reunion!
At some point in the proceedings, we toasted absent friends, in time honoured tradition. Also, in recognition of the commendable efforts made by all those present, simply in attending, I dished out the S61 44th Anniversary Reunion medals that had been struck especially for the occasion. After a moving, albeit somewhat over lengthy, ceremony, we vowed to always wear our medals with pride at future reunions to commemorate this glorious event. Unfortunately, this was later rendered OBE when it was revealed that Di had eaten them all! Oh well, sic transit gloria mundi and all that.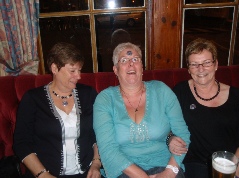 The wearing of the medals. (You have no idea how many takes it took to get just two out of three of the girls to look at the camera! Herding cats springs to mind!) I wonder what Chris is thinking? Answers on a postcard etc. Actually, I've studied this photo myself, and thought about what answer I'd give if it really was a caption competition. How about; "Those whom the Gods wish to destroy, they first make mad"?
As the evening wore on, we (well, Di mainly!) became so rowdy that the management thought better of throwing us out, and negotiated a lock in instead. A few short hours thereafter, a mass brawl broke out, involving the bar staff and another group of lock-ins! While the girls egged them on, the rest of us dived for cover under the table, thus unwittingly fulfilling Di's objective for the evening and signalling the end of the night's proceedings. And so ended a truly memorable reunion, which was thoroughly enjoyed by all!
The Aftermath
Eddy and I made our way to the local Kebab shop, which was mobbed. While Eddy ordered the mother of all kebabs and a bag of chips each, I listened politely and attentively while one of Newport's finest gave me a dissertation on how much he hated the 'effing Scummers, as he rocked back and forth a couple of inches from my nose. Illuminating, if just a tad repetitive, I thought.
Once back at Eddy's, it was lights, music and dancing, or rather, eating! We scoffed away, to the sound of Classic Gold's non stop hits, until I felt like an Anaconda who's swallowed a goat! By which time Eddy was comatose! Being a good oppo, I picked all the food from off his face and chest, cleared away a carrier bag full of the remains of the meal and it's packaging from the table and floor and put him into the recovery position. There being no hose available, I then simply took the following picture and went and got my head down for the few remaining hours before dawn.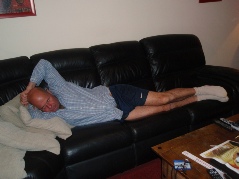 To be fair, it had been a hard weekend already and there was plenty more still to come. Me and Eddy had been on a run ashore in Pompey the night before, which didn't end till 0300, and we'd been in the pub all day. And you have to bear in mind that Eddy drinks at least two pints to every one of mine (half of which went down Di's throat, as I explained above, of course!). Bless!
Roll on the next reunion, I say!!
Dave Lenton (Official Reporter to S61 2011 Reunion)